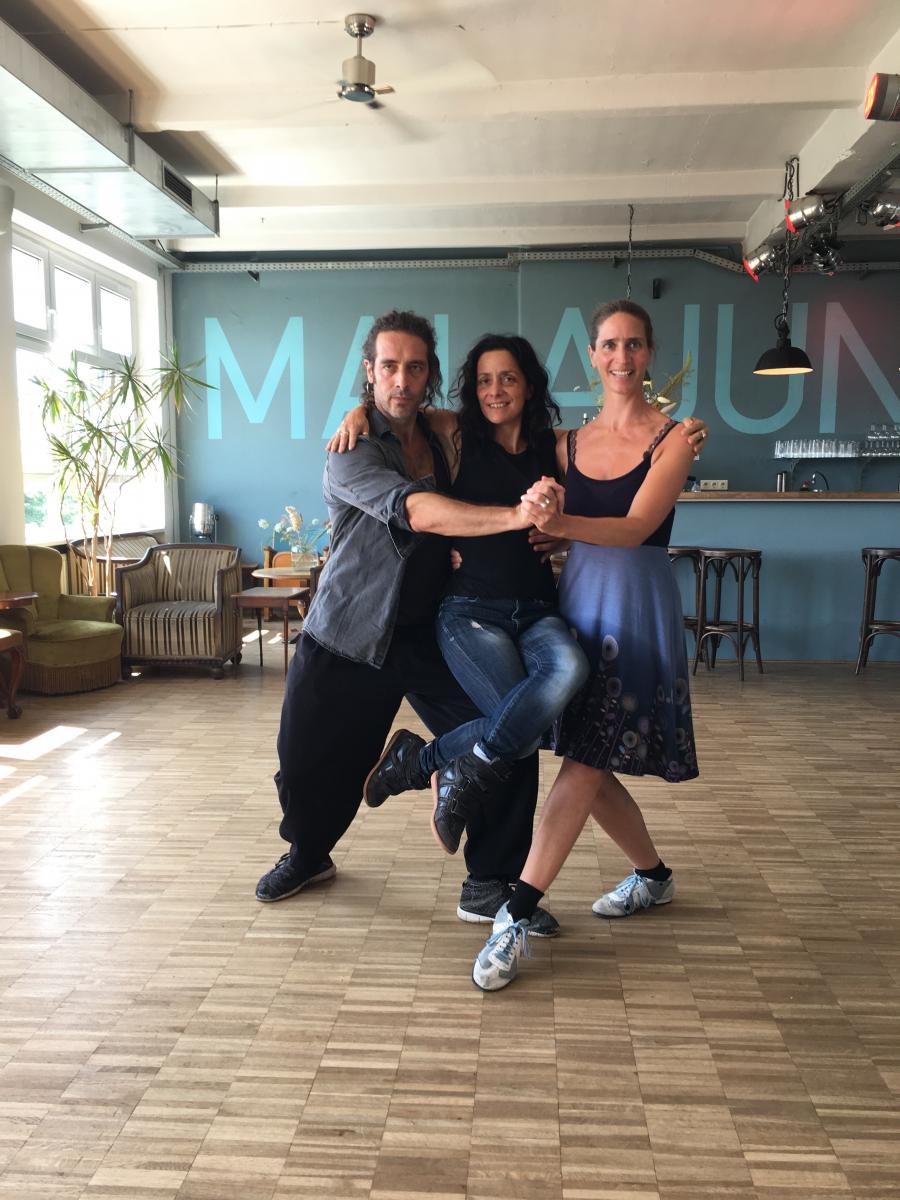 Tango vacation Berlin in Mala Junta
Gaia & Leandro
11 – 14/07/2024
with Judith, Leandro & Gaia
Tango vacation Berlin
In addition to the intensive lessons, we offer to go out for dinner together after class and visit Berlin's most popular milongas with you in the evening. We want to have fun and learn a lot 😉
We provide assistance in finding inexpensive accommodation with Berlin tango dancers or in a hotel.
In every lesson, it is important to us that what we have learned can be danced well, whether in a wide or tight embrace in the salon. We look forward to seeing you!
Thu, July 11, 2024
2:00 p.m. – 4:00 p.m. Arrival + always important, always fun to dance basics
Fri, July 12, 2024
12:00 – 1:30 p.m. The discovery of slowness (melodic movements and danced pauses)
short break
14:00 – 15:30 Dynamic and marked – turns in a tight embrace
Sat, July 13, 2024
12:00 – 1:30 p.m. Milonga Groove
short break
2:00 p.m. – 3:30 p.m. Vals – in the river without stress
Sun, July 14, 2024
12:00 – 2:00 p.m. We summarize – look back and look ahead together
Anyone who is already a partner can register in the course calendar.
If you are still looking for someone, please let us know at anmelde@malajunta.de, maybe we can help.
PRICE
10 hours tango lessons
Early bird until April 15, 2024 = 200 euros
then 230 euros
individual units (only possible at short notice) = 40 euros
Next dates
Thursday, 11.07.2024, 14:00 – Sunday, 14.07.2024, 14:00
Friday, 11.07.2025, 14:00 – Monday, 14.07.2025, 14:00
Saturday, 11.07.2026, 14:00 – Tuesday, 14.07.2026, 14:00
Sunday, 11.07.2027, 14:00 – Wednesday, 14.07.2027, 14:00
Venue
Mala Junta,
Kolonnenstr. 29,
10829
Berlin
Open in maps
For:

Intermediate and higher

Partner:

Please come with a dance partner