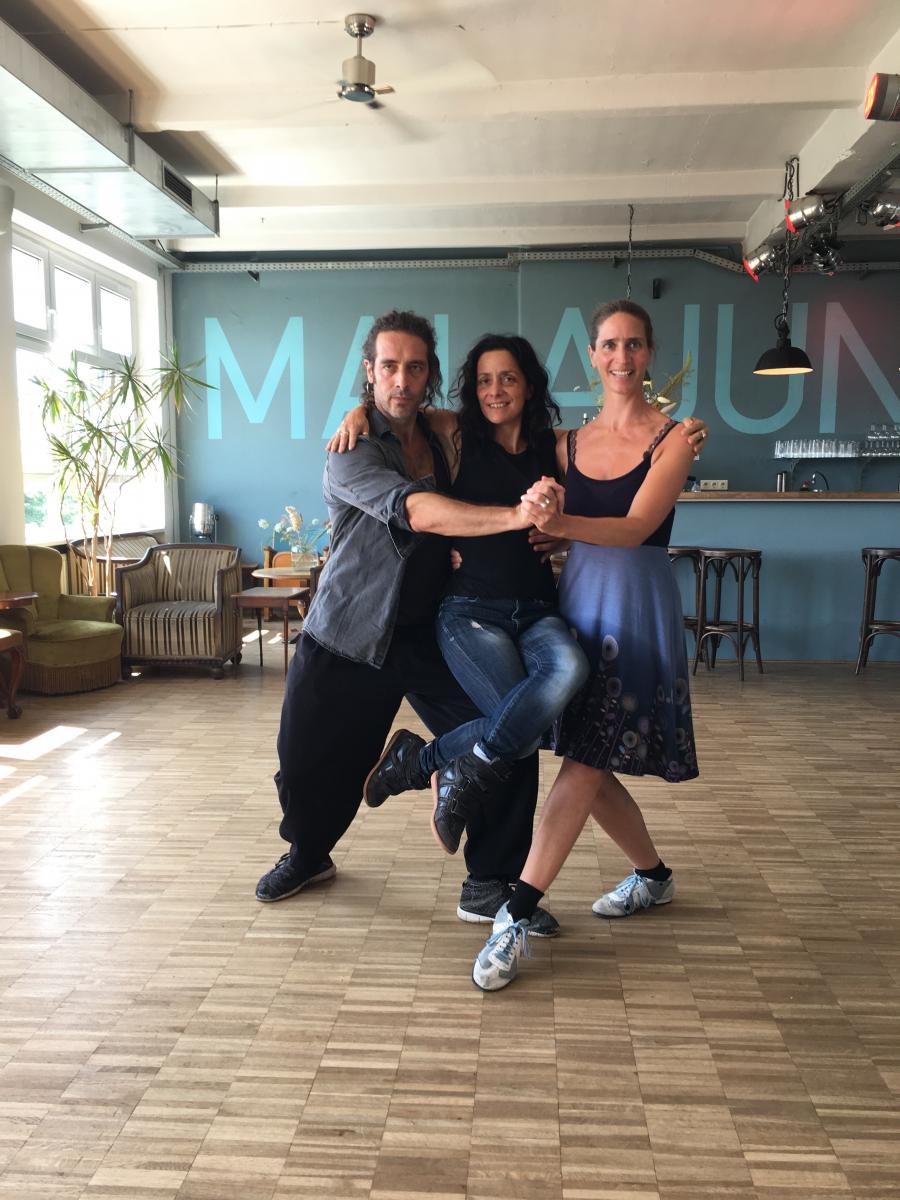 Tango vacation Berlin in Mala Junta
Gaia & Leandro
07 – 10 / 07 / 2022
with Judith, Leandro & Gaia
Tango vacation Berlin
We will adhere to the corona rules and hygiene measures in force at the time and may have to react flexibly, at the moment 2Gplus applies in the studio.
In addition to the intensive lessons, we offer to go out to eat together during the breaks and to visit Berlin's most popular milongas with you in the evenings (if they can take place). We want to have fun and learn a lot 😉
We provide assistance in finding inexpensive accommodation with Berlin tango dancers or in a hotel.
It is important to us in every lesson that what we have learned can be danced well in the salon, whether in a wide or close embrace. We look forward to you!
Thu, 07. July 2022
14:00 – 16:00 Arrive + always important, always danced basics
Fri, 08. July 2022
11:30 – 13:30 Milonguero Style: Ochos & Twists
15:30 – 17:30 Tango Nuevo: large rotation and boleos
Sat, 09. July 2022
12:00 – 14:00 Milonga – rhythmic dancing
16:00 – 18:00 Vals – in the flow without stress
Sun, 10. July 2022
12:00 – 14:00 We summarize – joint review and outlook
PRICE
12 hours of tango lessons
Early bird until April 15, 2022 = 200 euros
then 230 euros
anmeldung@malajunta.de
Next dates
Friday, 07.07.2023, 14:00 – Monday, 10.07.2023, 14:00
Sunday, 07.07.2024, 14:00 – Wednesday, 10.07.2024, 14:00
Monday, 07.07.2025, 14:00 – Thursday, 10.07.2025, 14:00
Tuesday, 07.07.2026, 14:00 – Friday, 10.07.2026, 14:00
Venue
Mala Junta,
Kolonnenstr. 29,
10829
Berlin
Open in maps
For:

Intermediate and higher

Partner:

Please come with a dance partner